Sunday, October 25th, 2009
Trial Skills: What to Say and How to Say It is a new book written by Los Angeles County Superior Court Judge Robert J. Perry.  The book is 175 pages long, broken down into 28 easily-digested chapters.  Explained Judge Perry, "this book is short; because most trial lawyers are too busy to read a lengthy tome on trial practice.  The focus is not on the law, but on improving trial skills."
As trial attorneys, what we don't get is direct feedback from the bench on what works and what doesn't work in the courtroom.  Trial Skills helps fill that gap.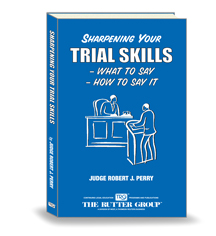 One of the judge's points repeated throughout the book is that trial lawyers should use visual props in the courtroom, be they PowerPoint presentations or exhibits blown up on the big screen.  In our current media culture, a trial attorney must start thinking about the visual aids that he or she will use the courtroom from the beginning of the case: the attorney can't wait till the last weeks before trial before getting serious about the visual aids he will use the courtroom.
The chapter on dressing appropriately for the courtroom contains a wonderful anecdote.  According to Judge Perry, "a favorite clothing story was shared by defense attorney Michael Russo, who told his client to 'dress well' for court.  At the next court appearance, the client showed up in a rented tuxedo."
While Trial Skills focuses on criminal trials, there are pointers that will help civil trial lawyers as well.  I particularly valued Chapter 23 on trial objections.  Judge Perry explains why the bench will make rulings on certain questions, which rulings may be based on the way the question is phrased rather than the information that is solicited from the witness.
Every trial lawyer has had situations in which the court sustained an objection and the lawyer shook his head wondering what was wrong with the question.  Trial Skills helps explain some of the reasoning behind these rulings.
Judge Perry reminds us that trial lawyers should enjoy the moment.  Says he, "there are few activities in law more satisfying than composing and delivering an effective closing argument.  When your days of trying jury trials are over, you will fondly recall the times the courtroom when you are on your feet, your adrenaline pumping, your mind racing, as you addressed the jury and argued the merit of your client's case."
Concludes Judge Perry, "Enjoy being a real lawyer – a trial lawyer."
Published by The Rutter Group, Trial Skills is a bargain at $45.00.  I cannot imagine any trial lawyer, no matter how experienced, who could not pick up several good pointers from this title.
Here's my most recent story, from a will contest trial last week in Tulare County.  One of the matter is in dispute involved the mental competency of the decedent.  I asked a witness for her opinion on an issue.  The other attorney wanted to hear the answer, and didn't object.
However, the trial judge himself interposed an objection, stating from the bench that the question asked for any improper opinion.  (Remember, there are no juries in trials arising under the Probate Code.)   When I asked the judge to confirm that he was objecting to my question, he smiled and said yes.  What could I do?  I moved on to the next question.